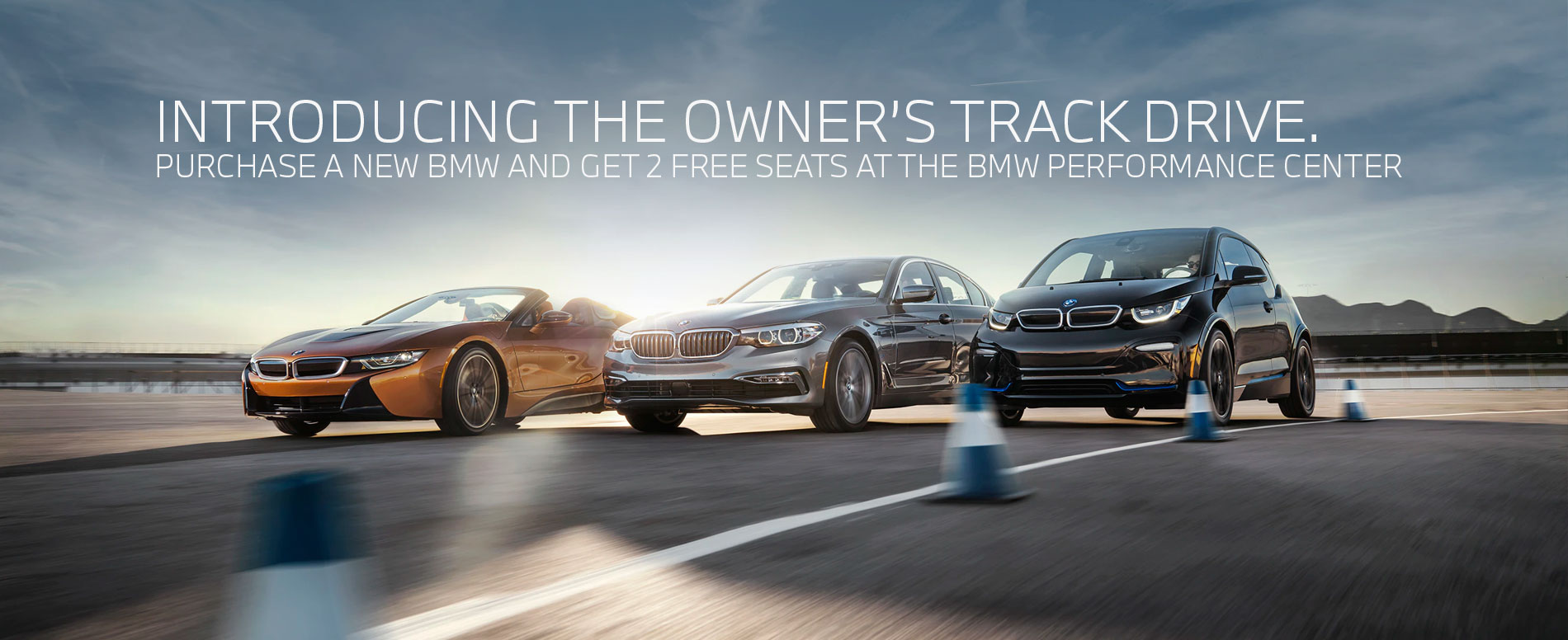 AN EXCITING DEAL: CUSTOMERS WHO PURCHASE A NEW BMW GET A FREE NEW OWNER'S TRACK DRIVE PROGRAM.
With the purchase of a new BMW, you can receive 2 complimentary seats at the BMW Performance Center in either South Carolina or Southern California - the School for accelerated learning. You and your guest will be treated to a 3-hour experience that includes classroom instruction, driving on track in a few different models, an off-road excursion and an unbelievable Hot Lap ride. It's a $598 value (2 seats x$299) and it's complimentary to all new owners from the BMW Performance Center.
WHO WE ARE:
The BMW Performance Center is a destination unlike any other. It's where owners, fans and driving enthusiasts alike get
to experience the BMW brand in a way it can truly shine: On the track. You will be treated to behind-the-wheel fun in multiple BMWs, accelerating, braking and turning while lapping in our Performance Drive segment. Then it's out to explore the off-road course for X-Vehicles. Drivers will glide over obstacles, ascend and descend hills, traverse water crossings and frame-bending berms in an  amazing display of X-Drive technology. For the grand finale, it's time to strap in for a pro Hot Lap. You will see, hear and feel our M5's powerslide through the turns, scream down the straights and drift at the limits of physics. It's an outing that will leave you with an unforgettable impression.

HOW IT WORKS: IT'S EASY FOR CUSTOMERS TO REDEEM THEIR COMPLIMENTARY PROGRAM.
Owners should visit bmwperformancecenter.com for a program overview, then call 888.345.4BMW to schedule their complimentary New Owner's Track Drive.

THE RULES:
-    Owner must provide the VIN # and date of sale

-    New vehicle purchases and lease customers only
-    Program certificates must be redeemed within one year of purchase
-    Offer holds no cash value and is not applicable for credit
-    See information below for Custom Order BMW customers taking PC Delivery
THE NEW OWNER'S TRACK DRIVE OFFER IS SEPARATE FROM THE BMW PERFORMANCE CENTER DELIVERY EXPERIENCE.

Customers who've ordered their brand new BMW for pickup at the BMW Performance Center in South Carolina already have a dedicated day of vehicle overview, instruction, track driving, meals and more. Those customers will work directly with the BMW Performance Center Delivery Team in coordinating their day for vehicle handover.

Sales Hours
Monday

8:30AM - 7:00PM

Tuesday

8:30AM - 6:00PM

Wednesday

8:30AM - 7:00PM

Thursday

8:30AM - 7:00PM

Friday

8:30AM - 6:00PM

Saturday

8:30AM - 5:00PM

Sunday

Closed